Contact Stewart Chiropractic
We'd love to hear from you! Call us at (831) 462-3550
Covid-19 Update
We have several procedures in place to protect the health of us all. We are still limiting the number of patients we see, and allowing plenty of time for thorough disinfecting between patients. Our waiting room is open now, but if you prefer, you can still call from the parking lot to let us know you are here, and we will let you know when to come in and which room to go to. We are limiting touch points throughout. Masks are required. Equipment will be disinfected after each patient visit.
We are making your health care as safe as we can make it during this time. The Covid situation is much better than it was, especially for those who have been vaccinated, but we are not out of the woods yet. We continue to take this thing seriously. We ask that you do too. If you have any reason to suspect that your wellness has been compromised, please wait.
Thank you for doing everything you can to stop the spread of this virus. Be kind, wash your hands, and stay well!
Dr Steven Stewart

CONTACT
Stewart Chiropractic
3811 Portola Dr
Santa Cruz, CA 95062
T: (831) 462-3550
F: (831) 475-1122
Office Hours
M
8:30 – 12:00
12:00 – 5:30
T
8:30 – 12:00
2:00 – 6:00
W
8:30 – 12:00
12:00 – 4:00
F
8:30 – 12:00
12:00 – 6:00

FIND US
In the Opal Cliffs area near Pleasure Point, we are between 38th and 41st Avenues. Look for the green "Back In Shape Chiropractic" sign. We have ample parking for you. Bicycle racks are behind our building and the bus stop is nearby. Please plan on arriving early for your appointment.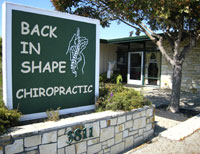 ---
Contact Stewart Chiropractic | (831) 462-3550